BMWZ Data Bank 1311C ET
Description
Data Bank has quickly put himself on the map as the go to sire for consistent quality.  No matter who you talk to time and again they will tell you their Data Banks are one of their top sire groups.  Go to our Instagram stories and you'll see there are plenty of winners wearing purple with Data Bank on the top end of their pedigree.
The calves come easy, he has been called a calving ease bull. They get up and grow from the day they hit the ground and they have all the look and style that you demand!
No I-80, no Ali and he works awesome on those pedigrees!  Data Bank is an extremely well balanced, smooth made individual that has an undeniably great look. He hails from some of the greatest cow families in the breed who have shown their power in the show ring but most importantly in the pasture. In an era when the search for a purebred Maine option has been somewhat limited Data Bank is the answer. He is awesome footed, smooth jointed and is as athletic as you can make a mature bull, he's square made and extremely soft middled.
PHA&TH FREE
Owned by Tolle Show Cattle, Blind Badger Ranch and Griswold Cattle Company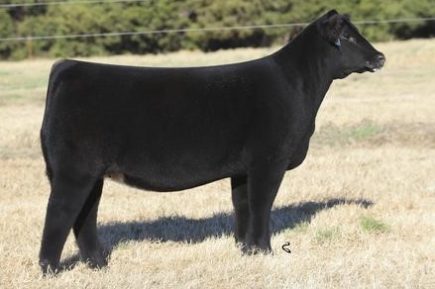 Registration #: 464046 • Birth Date: 03/25/2015
GVC STATESMAN 4R
BBBN X2 201X
BOSS BEAUTY 84M
BNWZ DATA BANK 1311C ET
SLC SOONER 101M
BNWZ CALYPSO 28Y
DLB MISS WHISKEY 2T
| | CE | Brth | Wean | Year | ADG | MCE | Milk | MWW | Stay | Doc | CW | YG | Marb | BF | REA | Shr | API | TI |
| --- | --- | --- | --- | --- | --- | --- | --- | --- | --- | --- | --- | --- | --- | --- | --- | --- | --- | --- |
| EPD | 6.8 | 1.3 | 53.4 | 74.9 | 0.13 | 3.6 | 13.7 | 40.3 | -1.7 | 6.0 | -4.3 | -0.51 | 0.05 | -0.115 | 0.52 | | 82.8 | 64.2 |
| PC | ±4.84 | ±1.5 | ±8.97 | ±14.14 | ±0.015 | ±6.32 | ±7.26 | ±7.5 | ±5.75 | ±3.65 | ±11.39 | ±0.14 | ±0.174 | ±0.028 | ±0.254 | ± | | |
| ACC | 0.38 | 0.50 | 0.45 | 0.45 | 0.45 | 0.20 | 0.39 | 0.38 | 0.19 | 0.27 | 0.41 | 0.32 | 0.33 | 0.30 | 0.41 | | | |
| % | 95 | 70 | 90 | 95 | 99 | 90 | 99 | 99 | 99 | 95 | 99 | 2 | 95 | 3 | 75 | | 99 | 75 |